Turck pressure sensors product selector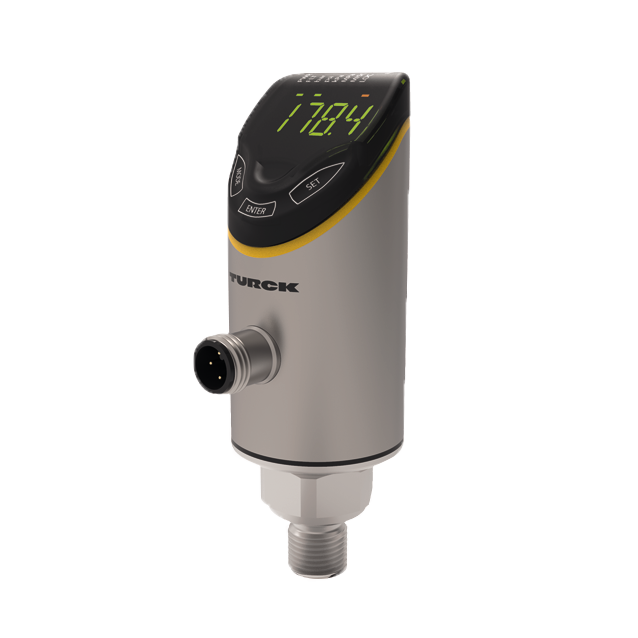 A Global Leader in Industrial Automation
Turck's sensors, connectivity, and fieldbus technology products are built to be the best. As one of the most prominent sensor manufacturers in the world, we even back our sensors with a lifetime warranty. Turck works by bringing rugged engineering solutions to your industrial automation applications

Pressure Sensors
Pressure sensors from Turck capture relative or absolute pressures in liquids and gases.
The PS series offers display, showing measuring ranges from vacuum to 600 bar. Outputs include set point, analog, and IO-Link. The PT series are transmitters without displays, measuring from vacuum to 7,500 PSIG. Outputs include 2 wire current and 3 wire analog voltage. The PK series offers display, and is specially designed for pneumatic or vacuum applications. Measuring ranges are either vacuum or 145 PSIG, with dual PNP outputs. The PC series are pressure switches with dual PNP outputs or IO-Link communication.

---
You can navigate Turck pressure sensors in 2 different ways:
1. Select your sensor by series and fluid connection
(back to index)
---
2 Select your sensor by pressure range and electrical / signal output connection type
2.1 "bar" Table
(back to index)
Series
PC Series (Stainless steel - Programmable)
PK Series (Switch point detection)
PS Series (PNP/NPN programmable)
PT1 Series (Stainless steel housing, pre-defined pressure threshold, no adjustment needed)
PT1000 Series (OEM)
PT4300 Series (Class 1, Division 2 Hazardous area approved / 316 Stainless steel diaphragm)
PT4400 Series (Class 1, Division 1 Hazardous area approved / 316 Stainless steel diaphragm)
Pressure Range
-1bar
to
0bar
0bar
to
0.1bar
0.1bar
to
0.2bar
0.2bar
to
0.3bar
0.3bar
to
0.4bar
0.4bar
to
0.5bar
0.5bar
to
0.6bar
0.6bar
to
0.7bar
0.7bar
to
0.8bar
0.8bar
to
0.9bar
0.9bar
to
1bar
1bar
to
2bar
2bar
to
3bar
3bar
to
4bar
4bar
to
5bar
5bar
to
6bar
6bar
to
7bar
7bar
to
8bar
8bar
to
9bar
9bar
to
10bar
10bar
to
20bar
20bar
to
30bar
30bar
to
40bar
40bar
to
50bar
50bar
to
60bar
60bar
to
70bar
70bar
to
80bar
80bar
to
90bar
90bar
to
100bar
100bar
to
200bar
200bar
to
300bar
300bar
to
400bar
400bar
to
500bar
500bar
to
600bar
600bar
to
700bar
-1bar
to
0bar
0bar
to
0.1bar
0.1bar
to
0.2bar
0.2bar
to
0.3bar
0.3bar
to
0.4bar
0.4bar
to
0.5bar
0.5bar
to
0.6bar
0.6bar
to
0.7bar
0.7bar
to
0.8bar
0.8bar
to
0.9bar
0.9bar
to
1bar
1bar
to
2bar
2bar
to
3bar
3bar
to
4bar
4bar
to
5bar
5bar
to
6bar
6bar
to
7bar
7bar
to
8bar
8bar
to
9bar
9bar
to
10bar
10bar
to
20bar
-1bar
to
0bar
0bar
to
0.1bar
0.1bar
to
0.2bar
0.2bar
to
0.3bar
0.3bar
to
0.4bar
0.4bar
to
0.5bar
0.5bar
to
0.6bar
0.6bar
to
0.7bar
0.7bar
to
0.8bar
0.8bar
to
0.9bar
0.9bar
to
1bar
1bar
to
2bar
2bar
to
3bar
3bar
to
4bar
4bar
to
5bar
5bar
to
6bar
6bar
to
7bar
7bar
to
8bar
8bar
to
9bar
9bar
to
10bar
10bar
to
20bar
20bar
to
30bar
30bar
to
40bar
40bar
to
50bar
50bar
to
60bar
60bar
to
70bar
70bar
to
80bar
80bar
to
90bar
90bar
to
100bar
100bar
to
200bar
200bar
to
300bar
300bar
to
400bar
400bar
to
500bar
500bar
to
600bar
600bar
to
700bar
-1bar
to
0bar
0bar
to
0.1bar
0.1bar
to
0.2bar
0.2bar
to
0.3bar
0.3bar
to
0.4bar
0.4bar
to
0.5bar
0.5bar
to
0.6bar
0.6bar
to
0.7bar
0.7bar
to
0.8bar
0.8bar
to
0.9bar
0.9bar
to
1bar
1bar
to
2bar
2bar
to
3bar
3bar
to
4bar
4bar
to
5bar
5bar
to
6bar
6bar
to
7bar
7bar
to
8bar
8bar
to
9bar
9bar
to
10bar
10bar
to
20bar
20bar
to
30bar
30bar
to
40bar
40bar
to
50bar
50bar
to
60bar
60bar
to
70bar
70bar
to
80bar
80bar
to
90bar
90bar
to
100bar
100bar
to
200bar
200bar
to
300bar
300bar
to
400bar
400bar
to
500bar
500bar
to
600bar
600bar
to
700bar
-1bar
to
0bar
0bar
to
0.1bar
0.1bar
to
0.2bar
0.2bar
to
0.3bar
0.3bar
to
0.4bar
0.4bar
to
0.5bar
0.5bar
to
0.6bar
0.6bar
to
0.7bar
0.7bar
to
0.8bar
0.8bar
to
0.9bar
0.9bar
to
1bar
1bar
to
2bar
2bar
to
3bar
3bar
to
4bar
4bar
to
5bar
5bar
to
6bar
6bar
to
7bar
7bar
to
8bar
8bar
to
9bar
9bar
to
10bar
10bar
to
20bar
-1bar
to
0bar
0bar
to
0.1bar
0.1bar
to
0.2bar
0.2bar
to
0.3bar
0.3bar
to
0.4bar
0.4bar
to
0.5bar
0.5bar
to
0.6bar
0.6bar
to
0.7bar
0.7bar
to
0.8bar
0.8bar
to
0.9bar
0.9bar
to
1bar
1bar
to
2bar
2bar
to
3bar
3bar
to
4bar
4bar
to
5bar
5bar
to
6bar
6bar
to
7bar
7bar
to
8bar
8bar
to
9bar
9bar
to
10bar
10bar
to
20bar
20bar
to
30bar
30bar
to
40bar
40bar
to
50bar
50bar
to
60bar
60bar
to
70bar
70bar
to
80bar
80bar
to
90bar
90bar
to
100bar
100bar
to
200bar
200bar
to
300bar
300bar
to
400bar
400bar
to
500bar
500bar
to
600bar
600bar
to
700bar
700bar
to
800bar
-1bar
to
0bar
0bar
to
0.1bar
0.1bar
to
0.2bar
0.2bar
to
0.3bar
0.3bar
to
0.4bar
0.4bar
to
0.5bar
0.5bar
to
0.6bar
0.6bar
to
0.7bar
0.7bar
to
0.8bar
0.8bar
to
0.9bar
0.9bar
to
1bar
1bar
to
2bar
2bar
to
3bar
3bar
to
4bar
4bar
to
5bar
5bar
to
6bar
6bar
to
7bar
7bar
to
8bar
8bar
to
9bar
9bar
to
10bar
10bar
to
20bar
20bar
to
30bar
30bar
to
40bar
40bar
to
50bar
50bar
to
60bar
60bar
to
70bar
70bar
to
80bar
80bar
to
90bar
90bar
to
100bar
100bar
to
200bar
200bar
to
300bar
300bar
to
400bar
400bar
to
500bar
500bar
to
600bar
600bar
to
700bar
700bar
to
800bar
1 or 2 threshold
(1DO or 2DO)
-
-
-
-
-
-
-
-
-
-
-
-
-
-
-
-
-
-
-
-
-
-
-
-
-
-
-
-
-
-
-
-
-
-
-
-
-
-
-
-
-
-
-
-
-
-
-
-
-
-
-
-
-
-
-
-
-
-
-
-
-
-
-
-
-
-
-
-
-
-
-
-
-
-
-
-
-
-
-
-
-
-
-
-
-
-
-
-
-
-
-
-
-
-
-
-
-
-
-
-
-
-
-
-
-
-
-
-
-
-
-
-
-
-
-
-
-
-
-
-
-
-
-
-
-
-
-
-
-
-
-
-
-
-
-
-
-
-
-
-
-
-
-
-
-
-
-
-
-
-
-
-
-
-
-
-
-
-
-
-
-
-
-
-
-
-
-
-
-
-
-
-
-
-
-
-
-
-
-
-
-
-
-
-
-
-
-
-
-
-
-
1 threshold (1DO)
+ Analog O. (Voltage)
-
-
-
-
-
-
-
-
-
-
-
-
-
-
-
-
-
-
-
-
-
-
-
-
-
-
-
-
-
-
-
-
-
-
-
-
-
-
-
-
-
-
-
-
-
-
-
-
-
-
-
-
-
-
-
-
-
-
-
-
-
-
-
-
-
-
-
-
-
-
-
-
-
-
-
-
-
-
-
-
-
-
-
-
-
-
-
-
-
-
-
-
-
-
-
-
-
-
-
-
-
-
-
-
-
-
-
-
-
-
-
-
-
-
-
-
-
-
-
-
-
-
-
-
-
-
-
-
-
-
-
-
-
-
-
-
-
-
-
-
-
-
-
-
-
-
-
-
-
-
-
-
-
-
-
-
-
-
-
-
-
-
-
-
-
-
-
-
-
-
-
-
-
-
-
-
-
-
-
-
-
-
-
-
-
-
-
-
-
-
-
-
-
-
-
-
-
-
-
-
-
-
-
-
-
-
-
-
1 threshold (1DO)
+ Analog O. (Current)
-
-
-
-
-
-
-
-
-
-
-
-
-
-
-
-
-
-
-
-
-
-
-
-
-
-
-
-
-
-
-
-
-
-
-
-
-
-
-
-
-
-
-
-
-
-
-
-
-
-
-
-
-
-
-
-
-
-
-
-
-
-
-
-
-
-
-
-
-
-
-
-
-
-
-
-
-
-
-
-
-
-
-
-
-
-
-
-
-
-
-
-
-
-
-
-
-
-
-
-
-
-
-
-
-
-
-
-
-
-
-
-
-
-
-
-
-
-
-
-
-
-
-
-
-
-
-
-
-
-
-
-
-
-
-
-
-
-
-
-
-
-
-
-
-
-
-
-
-
-
-
-
-
-
-
-
-
-
-
-
-
-
-
-
-
-
-
-
-
-
-
-
-
-
-
-
-
-
-
-
-
-
-
-
-
-
-
-
-
-
-
-
-
-
-
-
-
-
-
-
-
-
-
-
-
-
Analog O. (Voltage)
-
-
-
-
-
-
-
-
-
-
-
-
-
-
-
-
-
-
-
-
-
-
-
-
-
-
-
-
-
-
-
-
-
-
-
-
-
-
-
-
-
-
-
-
-
-
-
-
-
-
-
-
-
-
-
-
-
-
-
-
-
-
-
-
-
-
-
-
-
-
-
-
-
-
-
-
-
-
-
-
-
-
-
-
-
-
-
-
-
-
-
-
-
-
-
-
-
-
-
-
-
-
-
-
-
-
-
-
-
-
-
-
-
-
-
-
-
-
-
-
-
-
-
-
-
-
-
-
-
-
-
-
-
-
-
-
-
-
-
-
-
-
-
-
-
-
-
-
-
-
-
-
-
-
-
-
-
-
-
-
-
-
-
-
Analog O. (Current)
-
-
-
-
-
-
-
-
-
-
-
-
-
-
-
-
-
-
-
-
-
-
-
-
-
-
-
-
-
-
-
-
-
-
-
-
-
-
-
-
-
-
-
-
-
-
-
-
-
-
-
-
-
-
-
-
-
-
-
-
-
-
-
-
-
-
-
-
-
-
-
-
-
-
-
-
-
-
-
-
-
-
-
-
-
-
-
-
-
-
-
-
-
-
-
-
-
-
-
-
-
-
-
-
-
-
-
-
-
-
-
-
-
-
-
-
-
-
-
-
-
-
-
-
-
-
-
-
-
-
-
-
-
-
-
-
-
-
-
-
-
-
-
-
-
-
-
-
-
-
-
-
-
-
-
-
-
-
-
-
-
-
-
-
-
2.2 "psi" Table
(back to index)
Series
PC Series (Stainless steel - Programmable)
PK Series (Switch point detection)
PS Series (PNP/NPN programmable)
PT1 Series (Stainless steel housing, pre-defined pressure threshold, no adjustment needed)
PT1000 Series (OEM)
PT2000 Series
PT2100 Series
PT4300 Series (Class 1, Division 2 Hazardous area approved / 316 Stainless steel diaphragm)
PT4400 Series (Class 1, Division 1 Hazardous area approved / 316 Stainless steel diaphragm)
PT4500 Series (Submersible, Class 1, Division 1 Hazardous area approved / 316 Stainless steel diaphragm)
PT4510 Series (Submersible, Class 1, Division 1 Hazardous area approved / 316 Stainless steel diaphragm)
Pressure Range
-15psi
to
0psi
0psi
to
1psi
1psi
to
2psi
2psi
to
3psi
3psi
to
4psi
4psi
to
5psi
5psi
to
6psi
6psi
to
7psi
7psi
to
8psi
8psi
to
9psi
9psi
to
10psi
10psi
to
20psi
20psi
to
30psi
30psi
to
40psi
40psi
to
50psi
50psi
to
60psi
60psi
to
70psi
70psi
to
80psi
80psi
to
90psi
90psi
to
100psi
100psi
to
200psi
200psi
to
300psi
300psi
to
400psi
400psi
to
500psi
500psi
to
600psi
600psi
to
700psi
700psi
to
800psi
800psi
to
900psi
900psi
to
1000psi
1000psi
to
2000psi
2000psi
to
3000psi
3000psi
to
4000psi
4000psi
to
5000psi
5000psi
to
6000psi
6000psi
to
7000psi
7000psi
to
8000psi
8000psi
to
9000psi
-15psi
to
0psi
0psi
to
1psi
1psi
to
2psi
2psi
to
3psi
3psi
to
4psi
4psi
to
5psi
5psi
to
6psi
6psi
to
7psi
7psi
to
8psi
8psi
to
9psi
9psi
to
10psi
10psi
to
20psi
20psi
to
30psi
30psi
to
40psi
40psi
to
50psi
50psi
to
60psi
60psi
to
70psi
70psi
to
80psi
80psi
to
90psi
90psi
to
100psi
100psi
to
200psi
-15psi
to
0psi
0psi
to
1psi
1psi
to
2psi
2psi
to
3psi
3psi
to
4psi
4psi
to
5psi
5psi
to
6psi
6psi
to
7psi
7psi
to
8psi
8psi
to
9psi
9psi
to
10psi
10psi
to
20psi
20psi
to
30psi
30psi
to
40psi
40psi
to
50psi
50psi
to
60psi
60psi
to
70psi
70psi
to
80psi
80psi
to
90psi
90psi
to
100psi
100psi
to
200psi
200psi
to
300psi
300psi
to
400psi
400psi
to
500psi
500psi
to
600psi
600psi
to
700psi
700psi
to
800psi
800psi
to
900psi
900psi
to
1000psi
1000psi
to
2000psi
2000psi
to
3000psi
3000psi
to
4000psi
4000psi
to
5000psi
5000psi
to
6000psi
6000psi
to
7000psi
7000psi
to
8000psi
8000psi
to
9000psi
-15psi
to
0psi
0psi
to
1psi
1psi
to
2psi
2psi
to
3psi
3psi
to
4psi
4psi
to
5psi
5psi
to
6psi
6psi
to
7psi
7psi
to
8psi
8psi
to
9psi
9psi
to
10psi
10psi
to
20psi
20psi
to
30psi
30psi
to
40psi
40psi
to
50psi
50psi
to
60psi
60psi
to
70psi
70psi
to
80psi
80psi
to
90psi
90psi
to
100psi
100psi
to
200psi
200psi
to
300psi
300psi
to
400psi
400psi
to
500psi
500psi
to
600psi
600psi
to
700psi
700psi
to
800psi
800psi
to
900psi
900psi
to
1000psi
1000psi
to
2000psi
2000psi
to
3000psi
3000psi
to
4000psi
4000psi
to
5000psi
5000psi
to
6000psi
6000psi
to
7000psi
7000psi
to
8000psi
8000psi
to
9000psi
-15psi
to
0psi
0psi
to
1psi
1psi
to
2psi
2psi
to
3psi
3psi
to
4psi
4psi
to
5psi
5psi
to
6psi
6psi
to
7psi
7psi
to
8psi
8psi
to
9psi
9psi
to
10psi
10psi
to
20psi
20psi
to
30psi
30psi
to
40psi
40psi
to
50psi
50psi
to
60psi
60psi
to
70psi
70psi
to
80psi
80psi
to
90psi
90psi
to
100psi
100psi
to
200psi
-15psi
to
0psi
0psi
to
1psi
1psi
to
2psi
2psi
to
3psi
3psi
to
4psi
4psi
to
5psi
5psi
to
6psi
6psi
to
7psi
7psi
to
8psi
8psi
to
9psi
9psi
to
10psi
10psi
to
20psi
20psi
to
30psi
30psi
to
40psi
40psi
to
50psi
50psi
to
60psi
60psi
to
70psi
70psi
to
80psi
80psi
to
90psi
90psi
to
100psi
100psi
to
200psi
200psi
to
300psi
300psi
to
400psi
400psi
to
500psi
500psi
to
600psi
600psi
to
700psi
700psi
to
800psi
800psi
to
900psi
900psi
to
1000psi
1000psi
to
2000psi
2000psi
to
3000psi
3000psi
to
4000psi
4000psi
to
5000psi
5000psi
to
6000psi
6000psi
to
7000psi
7000psi
to
8000psi
8000psi
to
9000psi
9000psi
to
10000psi
10000psi
to
20000psi
3000psi
to
4000psi
5000psi
to
6000psi
6000psi
to
7000psi
7000psi
to
8000psi
-15psi
to
0psi
0psi
to
1psi
1psi
to
2psi
2psi
to
3psi
3psi
to
4psi
4psi
to
5psi
5psi
to
6psi
6psi
to
7psi
7psi
to
8psi
8psi
to
9psi
9psi
to
10psi
10psi
to
20psi
20psi
to
30psi
30psi
to
40psi
40psi
to
50psi
50psi
to
60psi
60psi
to
70psi
70psi
to
80psi
80psi
to
90psi
90psi
to
100psi
100psi
to
200psi
200psi
to
300psi
300psi
to
400psi
400psi
to
500psi
500psi
to
600psi
600psi
to
700psi
700psi
to
800psi
800psi
to
900psi
900psi
to
1000psi
1000psi
to
2000psi
2000psi
to
3000psi
3000psi
to
4000psi
4000psi
to
5000psi
5000psi
to
6000psi
6000psi
to
7000psi
7000psi
to
8000psi
8000psi
to
9000psi
9000psi
to
10000psi
10000psi
to
20000psi
-15psi
to
0psi
0psi
to
1psi
1psi
to
2psi
2psi
to
3psi
3psi
to
4psi
4psi
to
5psi
5psi
to
6psi
6psi
to
7psi
7psi
to
8psi
8psi
to
9psi
9psi
to
10psi
10psi
to
20psi
20psi
to
30psi
30psi
to
40psi
40psi
to
50psi
50psi
to
60psi
60psi
to
70psi
70psi
to
80psi
80psi
to
90psi
90psi
to
100psi
100psi
to
200psi
200psi
to
300psi
300psi
to
400psi
400psi
to
500psi
500psi
to
600psi
600psi
to
700psi
700psi
to
800psi
800psi
to
900psi
900psi
to
1000psi
1000psi
to
2000psi
2000psi
to
3000psi
3000psi
to
4000psi
4000psi
to
5000psi
5000psi
to
6000psi
6000psi
to
7000psi
7000psi
to
8000psi
8000psi
to
9000psi
9000psi
to
10000psi
10000psi
to
20000psi
0psi
to
1psi
1psi
to
2psi
2psi
to
3psi
3psi
to
4psi
4psi
to
5psi
5psi
to
6psi
6psi
to
7psi
7psi
to
8psi
8psi
to
9psi
9psi
to
10psi
10psi
to
20psi
20psi
to
30psi
30psi
to
40psi
40psi
to
50psi
50psi
to
60psi
60psi
to
70psi
70psi
to
80psi
80psi
to
90psi
90psi
to
100psi
100psi
to
200psi
0psi
to
1psi
1psi
to
2psi
2psi
to
3psi
3psi
to
4psi
4psi
to
5psi
5psi
to
6psi
6psi
to
7psi
7psi
to
8psi
8psi
to
9psi
9psi
to
10psi
10psi
to
20psi
1 or 2 threshold
(1DO or 2DO)
-
-
-
-
-
-
-
-
-
-
-
-
-
-
-
-
-
-
-
-
-
-
-
-
-
-
-
-
-
-
-
-
-
-
-
-
-
-
-
-
-
-
-
-
-
-
-
-
-
-
-
-
-
-
-
-
-
-
-
-
-
-
-
-
-
-
-
-
-
-
-
-
-
-
-
-
-
-
-
-
-
-
-
-
-
-
-
-
-
-
-
-
-
-
-
-
-
-
-
-
-
-
-
-
-
-
-
-
-
-
-
-
-
-
-
-
-
-
-
-
-
-
-
-
-
-
-
-
-
-
-
-
-
-
-
-
-
-
-
-
-
-
-
-
-
-
-
-
-
-
-
-
-
-
-
-
-
-
-
-
-
-
-
-
-
-
-
-
-
-
-
-
-
-
-
-
-
-
-
-
-
-
-
-
-
-
-
-
-
-
-
-
-
-
-
-
-
-
-
-
-
-
-
-
-
-
-
-
-
-
-
-
-
-
-
-
-
-
-
-
-
-
-
-
-
-
-
-
-
-
-
-
-
-
-
-
-
-
-
-
-
-
-
-
-
-
-
-
-
-
-
-
-
-
-
-
-
-
-
-
-
-
-
-
-
-
-
-
-
-
-
-
-
-
-
-
-
1 threshold (1DO)
+ 1 analog output (Voltage)
-
-
-
-
-
-
-
-
-
-
-
-
-
-
-
-
-
-
-
-
-
-
-
-
-
-
-
-
-
-
-
-
-
-
-
-
-
-
-
-
-
-
-
-
-
-
-
-
-
-
-
-
-
-
-
-
-
-
-
-
-
-
-
-
-
-
-
-
-
-
-
-
-
-
-
-
-
-
-
-
-
-
-
-
-
-
-
-
-
-
-
-
-
-
-
-
-
-
-
-
-
-
-
-
-
-
-
-
-
-
-
-
-
-
-
-
-
-
-
-
-
-
-
-
-
-
-
-
-
-
-
-
-
-
-
-
-
-
-
-
-
-
-
-
-
-
-
-
-
-
-
-
-
-
-
-
-
-
-
-
-
-
-
-
-
-
-
-
-
-
-
-
-
-
-
-
-
-
-
-
-
-
-
-
-
-
-
-
-
-
-
-
-
-
-
-
-
-
-
-
-
-
-
-
-
-
-
-
-
-
-
-
-
-
-
-
-
-
-
-
-
-
-
-
-
-
-
-
-
-
-
-
-
-
-
-
-
-
-
-
-
-
-
-
-
-
-
-
-
-
-
-
-
-
-
-
-
-
-
-
-
-
-
-
-
-
-
-
-
-
-
-
-
-
-
-
-
-
-
-
-
-
-
-
-
-
-
-
-
-
-
-
-
1 threshold (1DO)
+ 1 analog output (Current)
-
-
-
-
-
-
-
-
-
-
-
-
-
-
-
-
-
-
-
-
-
-
-
-
-
-
-
-
-
-
-
-
-
-
-
-
-
-
-
-
-
-
-
-
-
-
-
-
-
-
-
-
-
-
-
-
-
-
-
-
-
-
-
-
-
-
-
-
-
-
-
-
-
-
-
-
-
-
-
-
-
-
-
-
-
-
-
-
-
-
-
-
-
-
-
-
-
-
-
-
-
-
-
-
-
-
-
-
-
-
-
-
-
-
-
-
-
-
-
-
-
-
-
-
-
-
-
-
-
-
-
-
-
-
-
-
-
-
-
-
-
-
-
-
-
-
-
-
-
-
-
-
-
-
-
-
-
-
-
-
-
-
-
-
-
-
-
-
-
-
-
-
-
-
-
-
-
-
-
-
-
-
-
-
-
-
-
-
-
-
-
-
-
-
-
-
-
-
-
-
-
-
-
-
-
-
-
-
-
-
-
-
-
-
-
-
-
-
-
-
-
-
-
-
-
-
-
-
-
-
-
-
-
-
-
-
-
-
-
-
-
-
-
-
-
-
-
-
-
-
-
-
-
-
-
-
-
-
-
-
-
-
-
-
-
-
-
-
-
-
-
-
-
-
-
-
-
-
-
-
-
-
-
-
-
-
-
-
-
-
-
Analog output (Voltage)
-
-
-
-
-
-
-
-
-
-
-
-
-
-
-
-
-
-
-
-
-
-
-
-
-
-
-
-
-
-
-
-
-
-
-
-
-
-
-
-
-
-
-
-
-
-
-
-
-
-
-
-
-
-
-
-
-
-
-
-
-
-
-
-
-
-
-
-
-
-
-
-
-
-
-
-
-
-
-
-
-
-
-
-
-
-
-
-
-
-
-
-
-
-
-
-
-
-
-
-
-
-
-
-
-
-
-
-
-
-
-
-
-
-
-
-
-
-
-
-
-
-
-
-
-
-
-
-
-
-
-
-
-
-
-
-
-
-
-
-
-
-
-
-
-
-
-
-
-
-
-
-
-
-
-
-
-
-
-
-
-
-
-
-
-
-
-
-
-
-
-
-
-
-
-
-
-
-
-
-
-
-
-
-
-
-
-
-
-
-
-
-
-
-
-
-
-
-
-
-
-
-
-
-
-
-
-
-
-
-
-
-
-
-
-
-
-
-
-
-
-
-
-
-
-
-
-
-
-
-
-
Analog output (Current)
-
-
-
-
-
-
-
-
-
-
-
-
-
-
-
-
-
-
-
-
-
-
-
-
-
-
-
-
-
-
-
-
-
-
-
-
-
-
-
-
-
-
-
-
-
-
-
-
-
-
-
-
-
-
-
-
-
-
-
-
-
-
-
-
-
-
-
-
-
-
-
-
-
-
-
-
-
-
-
-
-
-
-
-
-
-
-
-
-
-
-
-
-
-
-
-
-
-
-
-
-
-
-
-
-
-
-
-
-
-
-
-
-
-
-
-
-
-
-
-
-
-
-
-
-
-
-
-
-
-
-
-
-
-
-
-
-
-
-
-
-
-
-
-
-
-
-
-
-
-
-
-
-
-
-
-
-
-
-
-
-
-
-
-
-
-
-
-
-
-
-
-
-
-
-
-
-
-
-
-
-
-
-
-
-
-
-
-
-
-
-
-
-
-
-
-
-
-
-
-
-
-
-
-
-
-
-
-
-
-
-
-
-
-
-
-
-
-
-
-
-
-
-